"It is among the best organisations that I have seen. I received the best services and food items and they filled my free time with activities and English lessons at the InterVolve school. I learned many things. Through this organisation I got to know many people both inside and outside the camp."
Since August 2016 we have organised several large scale events including concerts, a theatre performance, a winter wonderland family fun day, a family football day and big screen viewing of a major Real Madrid v's Barcelona match, several community and touring art exhibitions, film festivals, and advocacy projects.
We are currently working to develop walking tours which enable newcomers to connect with the communities and spaces where they are staying. We also aim to create a women and childrens space, and a safe, welcoming, participatory, Community Resource Centre that will be open to all residents of Thessaloniki.
Finding Home, Vassiliko Theatre Thessaloniki, June 2017
Finding home was the outcome of a ten-day workshop with the group 'Theatre of the Oppressed' at Softex Camp.The play was about the people's journey to Europe and the many challenges faced by refugees and migrants. The performance made use of discarded bed frames, once? [if they're discarded they're not being used, right?] used by residents, which at different points in the play became a boat, a prison, a bridge and a shelter. The symbolism of the bed frames, which now lie discarded in the derelict warehouse building that as recently as March was full of tents, was both visually striking and moving. The play was accompanied by a beautifully haunting live oud performance. It was powerful to hear the voices of the actors as well as to see locals coming to the performance to support and better understand the plight of the most recent refugees in Greece, a country that has experienced many other moments of mass migration over the course of its history.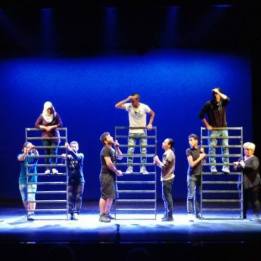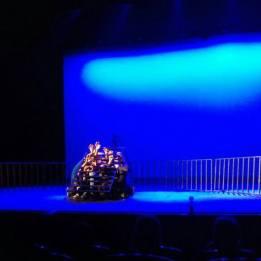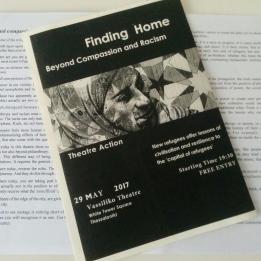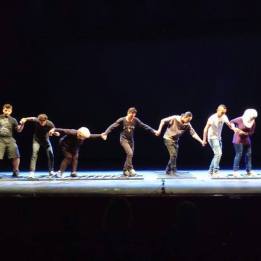 Winter Wonderland: January 2017
Baba Noel and the InterVolve volunteer elves opened a workshop for four magical days at AsteroKosmos in Thessaloniki, bringing together 1000 people from 15 different camps and housing projects to celebrate the new year alongside the Greek community. All children received personalised gifts chosen by their family. The event was visited by the Prime Minister, Alexis Tsipras, and by legendary campaigner Alf Dubs.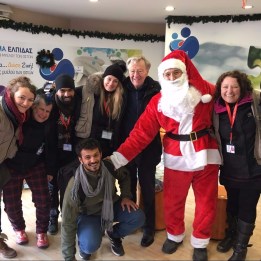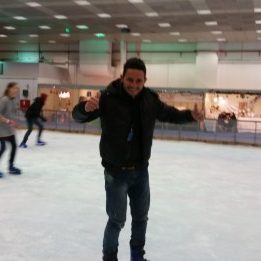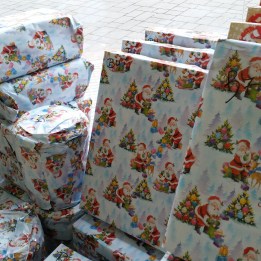 Can You See Me? May 2017
The residents of Softex came together with all the workers on site in a project which enabled to "show" themselves, and connect with others, by telling the stories that mattered to them, and by creating art. The result was overwhelmingly powerful. People from different backgrounds "saw each other". They saw stories. They saw people. They saw hope. They saw fear. They saw strength. "Can you see me?" they asked—and the answer was, "Yes, we can." Now the artworks are travelling around Greece and Europe, helping people to see and connect with their new neighbours.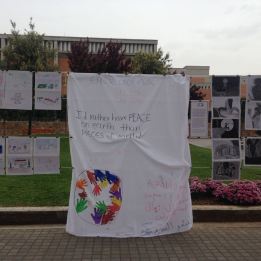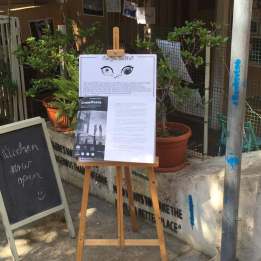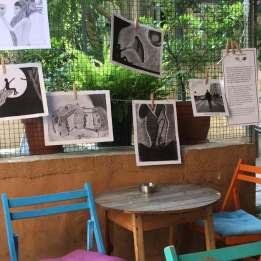 CrossRoads Photography Exhibition: May 2017
CrossRoads is a photography project documenting the situation in Greece from an insider's point of view, and at the same time from different perspectives – allowing those involved to tell their story in their own voice, and presenting it through their own eyes. Now touring, the Crossroads Exhibition features a collection of photographs taken by residents of Softex camp as well as residents of Thessaloniki, both Greek and Turkish. The aim of the project was to bring together various communities that are deeply affected by differing crises unfolding in the same city. The result is a beautiful and powerful exhibition which so far has been exhibited in Greece, other European countries and Lebanon.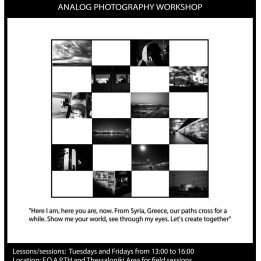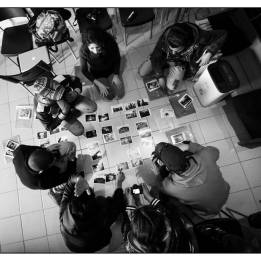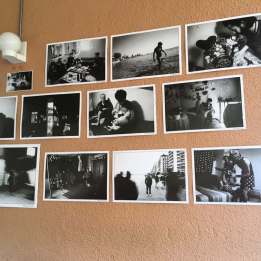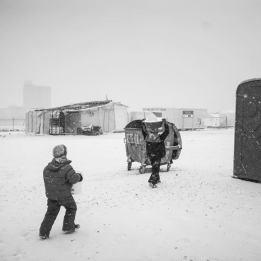 6 Years: March 2017
Syria has now entered the seventh year of a devastating war. It is a war that has created 4.8 million refugees who have had to flee their country. A war that has internally displaced 6.6 million people. A war that has taken more than 400,000 lives. It is a brutal war that is still raging. To raise awareness of the ongoing conflict, members of the Softex community organised an event to commemorate the past six years by distributing flowers in Thessaloniki. 200 single flower plants, which could be replanted, were distributed to members of the public, as symbols of hope for the future. Each packet included a message in Greek which simply stated '6 years of war in Syria. Enough'.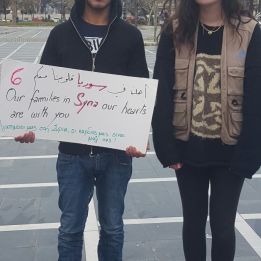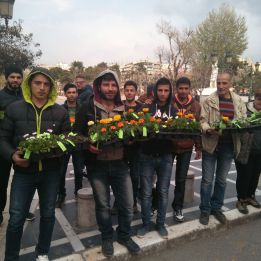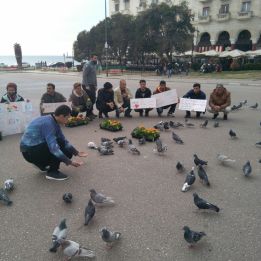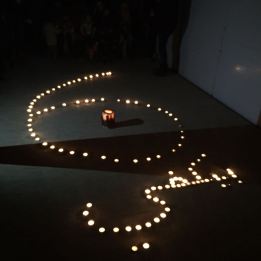 Family Football Day: April 2017
InterVolve co-facilitated a Family Football and Fun Day alongside partners MediaPro, La Liga and Open Cultural Centre. Around 1000 people from different communities came together and took part in arts and sports activities, musical and theatrical events, performances and family fun in the build-up to the big Real Madrid v Barcelona match (which was shown on 2 big screens). Extra sparkle was added by international artist Maria Corte, who worked with attendees to create a stunning mural, and international football star Carles Puyol, who attended the event to the delight of many fans. We were also visited by Mr Ioannis Mouzalas, the Minister of Migration, the president of La Liga and the president of MediaPro The day was a chance for everyone to share their common love of football, and it was a day filled with laughter, colour, cheers, the rekindling of old friendships and the building of new ones. It was a day filled with moments to treasure.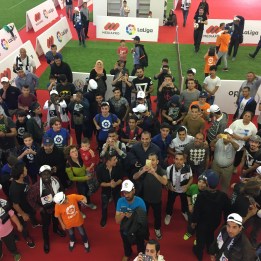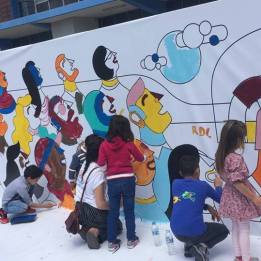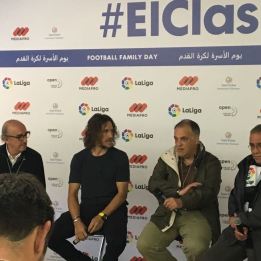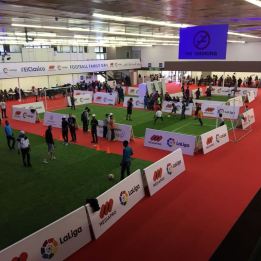 Mothers Day: March 2017
To celebrate Mother's Day, we held a gathering in Softex for all members of the community to come together and show their appreciation for the women in their lives. We remembered mothers who were far away, had a moment of silence for mothers no longer with us, and thanked the mothers who were present. There was Dabke dancing, singing, poetry and baklava. The incredible strength of women, their compassion and power were celebrated. It was an evening filled with beautiful moments and it was heartwarming to see so many members of the community coming to show their appreciation.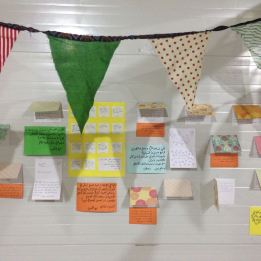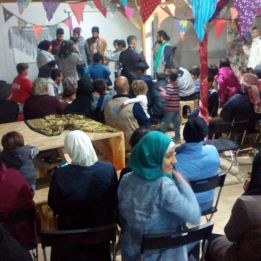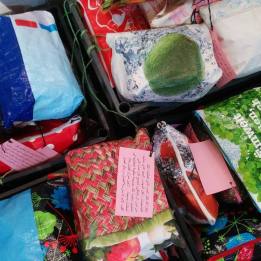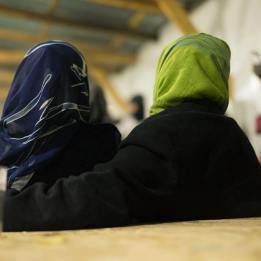 Eid Souk: June 2017
We had a joyous day at the Softex Souk which was a beautiful mix of traditional food, music, dancing, laughter and bouncing, where some people really felt as if they were out of camp and at "home" once more.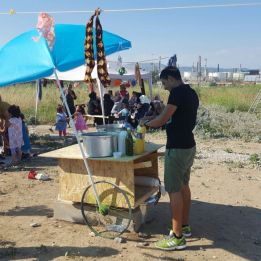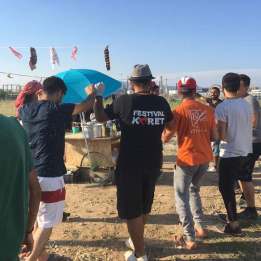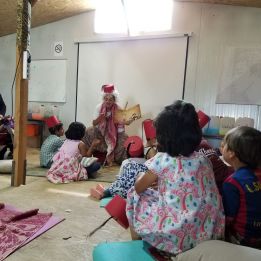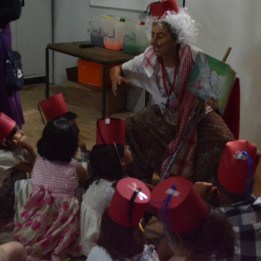 Softex Olympics: April 2017
We held the Softex Olympics during which six teams—Love, Co-operation, Helping Others, Communication, Peace and Respect—participated in a variety of sporting activities. The younger participants were engaged in a story in which they had to save the earth from destruction caused by pollution and war by earning points through the sporting activities. Throughout the day, teamwork and co-operation were emphasised, and it was wonderful to see people of varying ages and different nationalities coming together and taking part.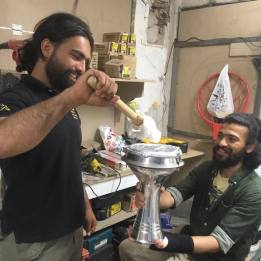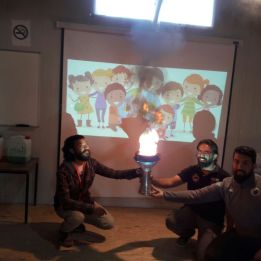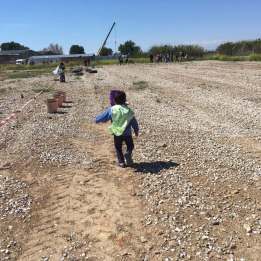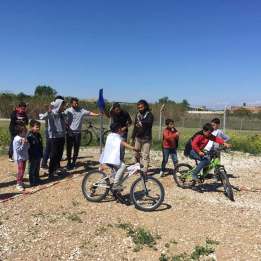 I Want to Breathe: April 2017
In response to the horrific attacks in Syria, Softex community members stood together in the center of Thessaloniki, mouths covered in masks, and silent, in a symbolic gesture to the violence their compatriots had suffered" Their message: We want to breathe.
Jordi Savall: Performance: Vasilika: June 2016
We worked with Jordi Savall to create a concert at Vasilika Camp – offering a performance of rediscovered musical treasures.